This is an old revision of the document!
---
HDD-related FAQs
What is the maximum height 2.5" drives may have?
Available storage drives: 7 - 9.5 - 12.5 - 15 mm
Category
Model
Max. height of drive
XPC slim
DS61, DS81, DS81L, DS87, DH110, DH110SE, DH170, DQ170
12.5 mm
XS35 Series
9.5 mm
XS36 Series
9.5 mm
DX30
12.5 mm
XH61
9.5 mm
XH61V, XH81, XH81V, XH97V, XH110, XH110V, XH170V
9.5 mm lower bay
12.5 mm upper bay
DS47, DS407T, DS437, DS437T, DS57U Series, DS67U Series
12.5 mm
XPC nano
NC01U Series, NS01A, NS02A, NS02E
7 mm
NC02U Series
15 mm
XPC all-in-one
X50V2, X50V2 Plus
9.5 mm
X50V3, X50V3L, X50V4, X50V5, X70S, X70M
12.5 mm
XPC accessories
PHD3
9.5 mm
How to make my large-size HDD (over 2 TB) one partition under Windows operating system?
To make a large-size HDD one partition under Windows, please change the partition style from MBR to GPT in Disk Management as shown in the below picture.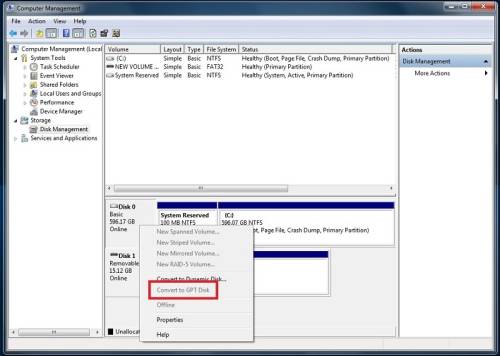 The old Windows partition style MBR only supports up to 2 TB per partition, however the newer standard, called GPT (GUID Partition Table), supports up to 18 EB.
And there is another problem which the old legacy BIOS can't support the HDD with GPT mode to be a bootable disk, it need to use the EFI (Extensible Firmware Interface) to instead the legacy BIOS to make the GPT disk for booting.
Note: Shuttle had imported the EFI with SH61R4, SH67H3/H7, SZ68R5 and all other new models after these models.
Below table shows the Windows operating system compatibility with large size HDD: (All the Windows version tested with latest version).
OS
Platform
Boot from GPT with Legacy BIOS
Boot from GPT with EFI
To be a data disk
Windows XP
32-Bit
✘
✘
✘
64-Bit
✘
✘
✔
Windows Vista
32-Bit
✘
✘
✔
64-Bit
✘
✔
✔
Windows 7
32-Bit
✘
✘
✔
64-Bit
✘
✔
✔
Related links