This is an old revision of the document!
---
SX58H7
What RAM voltage should I use on the SX58H7?
According to Intel, any RAM used together with a Core i7, CPUs need to have a voltage setting below 1.65V. Any voltages over 1.65V may damage your CPU.
Please note the yellowish sticker which will be found on top of the RAM slots of the SX58H7 barebones: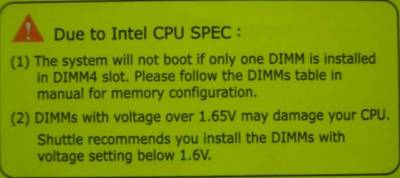 As such, Shuttle recommends you install DIMMs with a voltage setting below 1.6V. A best, case scenario would be to use second generation DDR3 memory with a native voltage rating below 1.65V to avoid damage to the Core i7 CPU, RAM and barebone.
Related links