Chassis-related FAQ
How to print your very own custom front panel
The R4 (and similar) front panel comes with a removable acrylic plate which allows for creating individual front designs. Simply change the mylar and add your design such as a photo, graphics or a company logo to the front panel in just a few steps.
With this empty PDF template in A4 format, you can design and print a perfectly fitting front panel of the J1, J4 und R4 chassis every major graphic design software.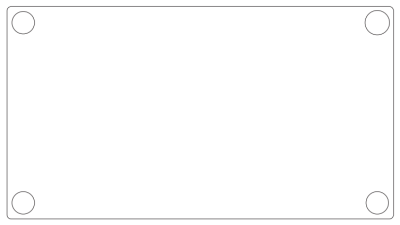 In case you want to create a design from scratch, use these information: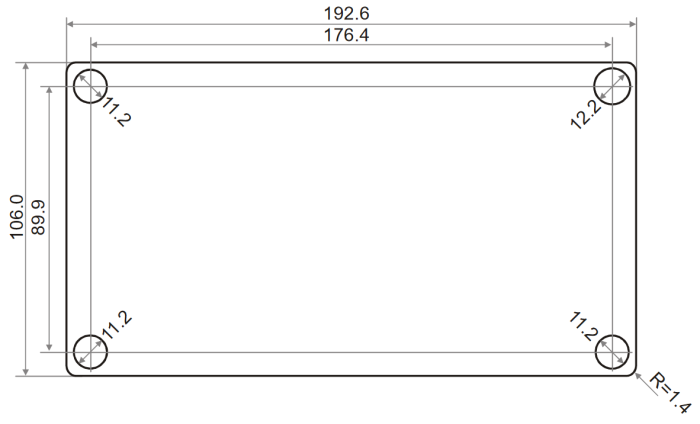 All dimensions in millimetres (mm)
What distinguishes the R4/R6/R8 chassis designs?
Shuttle provides three chassis designs for their XPC cube series: R4, R6 and R8. While R4/R6 supports two hard disks and one optical drive, the R8 can support up to four hard disks. In addition, the R6 has one open 3.5" bay, which can also be used for a card reader.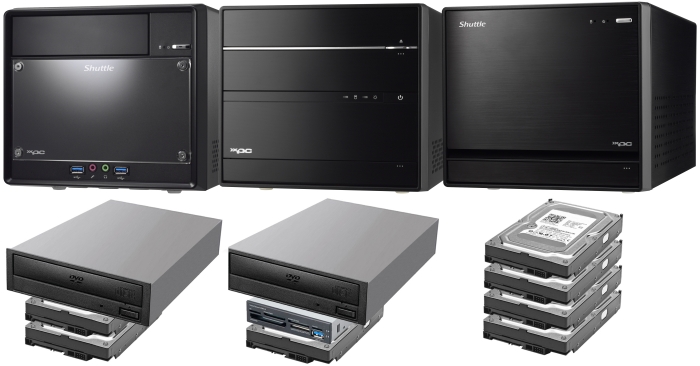 R4 chassis (left)
R6 chassis (center)
R8 chassis (right)
Features
Open front without doors
Customisable front design
With front doors for I/O ports and drives
With front door for I/O ports
5.25"
1x 5.25" bay
1x 5.25" bay
3.5"
2x 3.5" bay
2x 3.5" bay (1x open)
4x 3.5" bay
Dimension drawing
Click on the images in order to see a larger version.
XPC cube
R4 design
SH81R4, SZ87R4, SH110R4
Chassis
R5 design
SX79R5, SZ68R5, SZ77R5
Chassis
R6 design
SH170R6
Chassis
R8 design
SZ170R8 SZ170R8V2,SZ270R8
Chassis
R9 design
SZ270R9
Chassis
XPC slim
3 litre format 1)
XH110
Chassis
VESA mount (PV02)


XH110V
Chassis
VESA mount (PV02)


XH110G
Chassis
VESA mount



1,3 litre format 2)
DS61, DS81, DS81L, DS87, DH110, DH110SE, DH170, DQ170, DH270, DX30, DL10J
Chassis


VESA mount
Stand
1,3 litre format 3)
DS47, DS407T, DS437, DS437T, DS57U Series, DS67U Series, DS68U, DS77U Series
Chassis
VESA mount
Stand
XPC nano
NC01 series
NC01
Chassis
VESA mount


NC02/NC03 series
NC02U, NC03U
Chassis
Stand


NS Series
NS01, NS02A, NS02E
Chassis
VESA mount


XPC all-in-one
X50 series
X50V4, X50V5, X50V6
Chassis




P20U series
P20U
Chassis




P90U series
P90U
Chassis



Stand
P51U series
P51U
Chassis



Related links
---