DL10J
RS232/422/485 Assignment
RS-232
RS-422
RS-485
PIN
COM
COM
COM
1
DCD1#
422 TX -
485 -
2
SIN1
422 TX +
485 +
3
SOUT1
422 RX -
4
DTR1
422 RX +
5
GND
6
DSR1#
7
RTS1
8
CTS1#
9
RI1#
Software Installation and First Connect WWN01 LTE Module + Huawei EM906S LTE Module
Please note: Before performing the below steps, please install the hardware according to the installation guide as found in the specification PDF.
Please run Windows Update in order to install the driver for the HUAWEI GNSS Sensor. The other two components will use the Windows 10 inbox driver (1803 and newer).

Once the Windows Update process is completed, three devices should be listed in the device manager as shown below.

Check Windows Settings in Network & Internet for the newly available Cellular connection.

Here, you can also select under which conditions the Cellular connection should be used.

The Cellular connection is also visible in the

Network Tray Symbol

, just where usually Wi-Fi signals can be found.

Click "Unlock SIM" to connect.

Enter the

PIN

(if applicable) of your SIM card and press "Next".

If the PIN was entered correctly and the SIM card is enabled for

DATA connection

, the connection should now be set up.
Which LTE/4G modules are suitable?
Successfully tested M.2-3042 modules:
| Brand | Model | |
| --- | --- | --- |
| Sierra | EM7455 | CAT 6, for Europa and North America |
| Sierra | EM7430 | CAT 6, for APAC |
| Huawei | ME906S | CAT 4, for EMEA, Australia, New Zealand |
| Quectel | EM06-E | CAT 6, for EMEA, Australia, Brazil |
LTE module cannot be found in the device manager?
Check the following BIOS setting to ensure that the LTE module will be recognized correctly.
Go to Advanced → Onboard Device Configuration → E → Key Device Select and change from PCIE to USB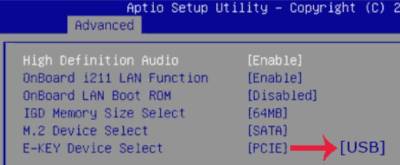 Where is COM port #1?
The first COM port is marked on this photo:


Related links