XS35V2
Do I have to use the stand when operating the XS35/XS36 Series?
For the computer to have the best possible cooling effect, we strongly recommend you install the stand.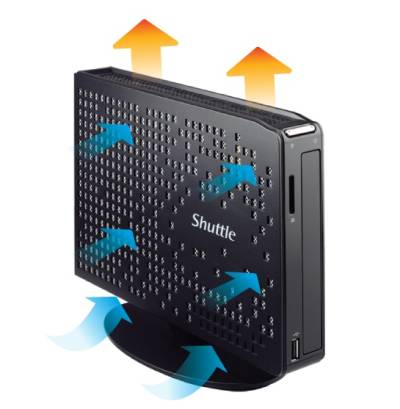 How to enable WLAN on XS35 series
Please install all drivers and applications from driver CD.

You'll find a "ControlAP" icon on your desktop. Please start the "ControlAP" program.

Press the "Wireless" button to enable/disable the Wireless LAN function.

The Windows icon bar will show a wireless connection icon.
Does XS35V2 series support Wake On Lan?
Due to XS35V2 / XS35GT V2 design base on notebook platform, therefore will not have wake up function by Magic Packet, but the XS35V2 / XS35GT V2 have provide the PXE (Preboot eXecution Environment) function, if you want to use the PXE function, will suggest to build a PXE server, please refer more information from the relevant technical community.
Which DDR3 memory modules are not compatible?
Applies to products with Intel Atom D525 processor.
| ✘ Not compatible: 4 GB module with 8 chips (4 on each side) | ✔ Compatible: 4 GB module with 16 chips (8 on each side) |
| --- | --- |
| | |
The maximum supported density is 256M x 8 per chip (256 MB per chip).
Related Links