X50V3
Where can I find drivers for other operating systems beside Windows 7 32-bit?
Because of specification limitation, this model now has only support for Windows 7 32-bit.
How to install memory
Because of Intel's specification issue, when only use one memory module is used, please install the module in the upper DIMM slot. Please see the below picture: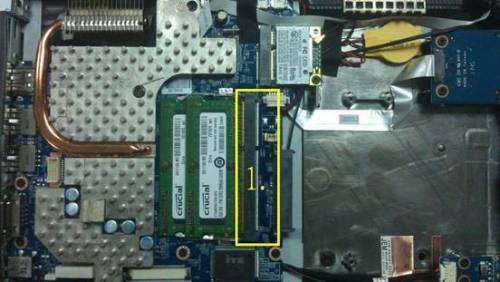 How do I flash the BIOS Version SX50X300.102 in DOS mode?
Please see the below link how to make a bootable USB pen drive first.

Extract and copy all six files in the DOS folder to the root directory.

Reboot and press

F7

when you are prompted with the below screen.

Select your USB pen drive to boot into DOS mode (Not the SATA and UEFI options)

When you see the

C:\>

prompt, please run

FLASH.BAT

and read the note, then press any key to continue.

After first flashing, the system will reboot and when you see the below message, please press

F1

.

After pressing F1, please hit F7 and go to step 4 again.

The system will auto-flash the BIOS again and after this process is finished, the system will shutdown automatically and the BIOS update is completed.
Related links