XS35GT
Do I have to use the stand when operating the XS35/XS36 Series?
For the computer to have the best possible cooling effect, we strongly recommend you install the stand.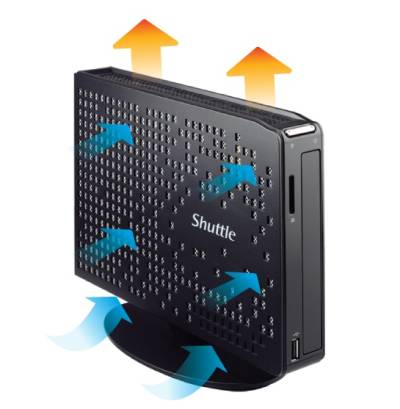 Which type of SATA connectors does XS35/XS35GT have?
This FAQ refers to XS35, XS35GT
The XS35(GT) uses the usual standards for the SATA connectors. You can install the following drives:
one 2.5" (63.6mm) notebook hard disk drive (HDD) with Standard SATA connector

one slim optical drive with 12.7mm height and Slimline SATA connector
Micro SATA or IDE (PATA) connectors are not supported (please see below).
Connector
Support
Pins
Voltage
Usage
Photo
Standard SATA
✔
22 total
7 data
15 power
3,3 V
5 V
12 V
2.5" (63.6mm) and 3.5" (88.9mm) hard disks / solid state disks (SSD), standard 5.25" (133.4mm) optical drives
Slimline SATA
✔
13 total
7 data
6 power
3.3 V
5 V
Optical DVD or Blu-ray drives in notebooks and nettop PCs
Micro SATA
✘
16 total
7 power
7+2 voltage
5 V
1.8" (46mm) hard disks and solid state disks (SSD)
IDE Slim ATA
✘
50 total
Slim optical drive with IDE (Parallel ATA) connector
---
Related links